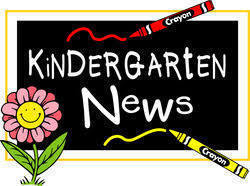 Week of April 15, 2019
Stefanie Hill
Thursday, April 18, 2019
Sounds we are learning: TH th and QU qu
Tricky word of the week: what
April word family: -ill
Dates to remember:
April 19 - No School
April 22 - No School - Alternative Learning Day. Please complete your child's packet and return back to your classroom teacher.
April 26 - COGS store, all school read aloud, and BINGO
PLEASE NOTE: Closed-toe shoes are required for ALL kindergartners throughout the entire school day please! Thank you for helping keep your child safe.
Math: We will start Topic 12 where we will work on attributes of solid and flat shapes. We will describe how many vertices (corners) are in different shapes. With out solid figures, we will sort which ones will roll, stack and slide.
Coming up in Topic 13, we will continue to analyze, compare and create shapes.
Please don't forget we all need to be able to count to 100 by the end of kindergarten.