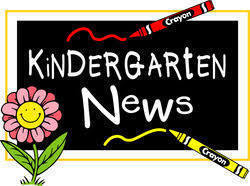 Kindergarten - Week of May 13, 2019
Stefanie Hill
Wednesday, May 15, 2019
Sounds we are learning: AR ar
Tricky word of the week: why
May word family: -ate
Thank you to the families who thought of us during Teacher Appreciation Week. You really made us feel special!
PLEASE NOTE and Important Dates:
The last day for Book Check will be Monday, May 20th.
Please return all books that were checked out from the classroom on Tuesday, May 21st.
The last day for KINDERGARTEN to move levels on the Reading Wall will be Wednesday, May 22nd. Please do not send any more book slips after May 22nd.
The last day of school will be Monday, June 3rd.
KES Field Day will be held in the afternoon on Monday, June 3rd.
There will be hot lunch available on Field Day. There was an error in the original Field Day note.
Report cards will be distributed on Monday, June 3rd. If your child is absent on that day, their report card must be picked up from the office after June 3rd. Report cards will not be distributed early.
**This week we will have a special visitor coming to our classrooms to discuss worms**