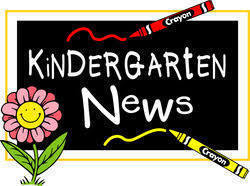 Kindergarten - Week of October 7, 2019
Stefanie Hill
Monday, October 07, 2019
Kindergarten Newsletter
Sounds we are learning: Cc/Kk and Ee
Tricky Word of the Week: like
(Practicing current and previous tricky/sight words is essential to mastering them.)
October Word Families: -in
Important Dates to Remember:
Friday, October 11th - Teacher's Institute Day - NO Student Attendance
Monday, October 14th - NO SCHOOL - Columbus Day
Thursday, October 17th - Picture Retakes and Great Shake down drill
Friday, October 18th - End of 1st Quarter
Monday, October 21st - Vision and Hearing Screenings
Tuesday, October 22nd - Vision and Hearing Screenings
Friday, October 25th - All School Bingo and COGS store
Thursday, October 31st - Halloween Parties
KES 1st Quarter Semester Community Service Project: We are helping Goodfellows of Genoa-Kingston purchase holiday gifts for families in need. There will be a raffle held during the November fundraising event. Our students are gathering basket items for 3 baskets. We are looking for donations to any one of three basket themes. The themes are Sweets and Treats (candy basket - bring in a candy item), Lottery (bring in a ticket), and School/Art and crafts (bring in various school supplies/arts and crafts items).
We are 'preparing our students to excel and contribute to their community.'