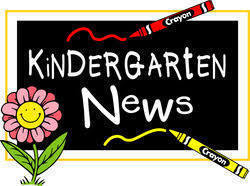 Kindergarten - Week of November 18, 2019
Stefanie Hill
Tuesday, November 19, 2019
Kindergarten Newsletter
Week of November 18, 2019
Sound we are learning: Uu, Ll, and Ff
Tricky Word of the Week: he/she
Practicing current and previous tricky/sight words is essential to mastery of them.
November Word Families: -og
Important Dates to Remember:
November 26 - Kindergarten Thanksgiving Feast. Please send all items in by Monday, November 25th
November 27, 28, 29 - Thanksgiving break
Math - Topic 6:
In this topic, we focus on an understanding of addition. Students will represent addition using their fingers, objects, drawings, and verbal explanations. They understand addition as "putting together" two groups (joining) or as "adding to" a given group.
Please Note:
Please send warm outerwear (coat, hat, gloves or mittens) for recess everyday. Students go outside for recess if the temperature is 0 degrees or above (including windchill or real feel). Please make sure all zippers work and that your child can dress independently. Snow pants and snow boots are required to play off the blacktop. Please put names on your child's outwear.