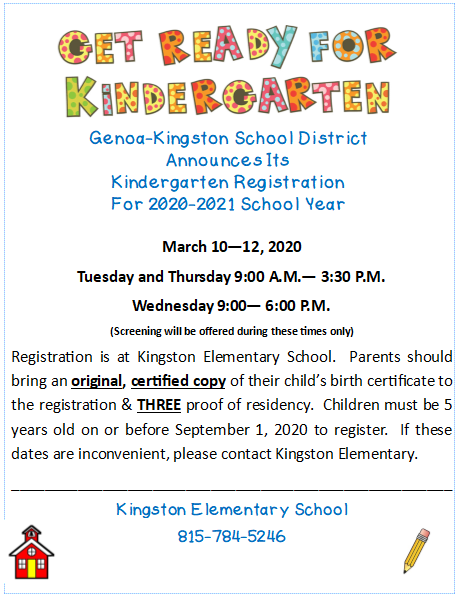 Kindergarten Registration
Stefanie Hill
Monday, March 09, 2020
It is that time of year! Time to register the incoming Kindergarten students. Why do we do it now? We do it now so that it better prepares us for the number of incoming students, with teachers, curriculum and so much more. Please help spread the word.
How do I register? You can go on-line at www.gkschools.org and register your child on-line. Then come to the school to drop off the documentation that you need. This documentation includes a certified copy of the child's birth certificate along with proof of residency.
What is the Kindergarten Round Up? The Kindergarten Round UP consists of three days - March 10, 9:00-3:30; March 11, 9:00-6:00; and March 12, 9:00-3:30. On these three days we offer a kindergarten screener done by several Kindergarten teachers and other staff. This is not required. The office staff is available to help with registration and to check your documentation to make sure your child is all set for next year. Once you register, your child will also receive a Kindergarten Readiness Bag, full of goodies to help your child be prepared for next year.
This time is open for kindergarten registration only.
Thank you!