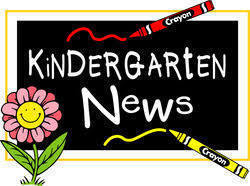 Kindergarten - Week of September 14, 2020
Stefanie Hill
Monday, September 14, 2020
Kindergarten Newsletter
Week of September 14, 2020
Upcoming Dates:
Tuesday, September 29 – bus evacuation drill, all kindergarten classes will practice getting off a school bus in the event of an emergency.
Reminders:
Please check your child's folder every day and remove the papers.
Label all homework with your child's name.
Send healthy snacks to school (no chips or cookies).
Do not send snacks with peanuts or tree nuts.
Send a water bottle to school every day.
Phonics:
Focus letters this week: Aa and Tt
Tricky Word of the Week: see
September's Word Family: __at
What is a word family? A group of words that share a common base to which different prefixes and suffixes are added. Example: cat, bat, hat, sat, rat, mat
It is coat and jacket season!
Students at Kingston Elementary need a jacket when the temperature is below 65 degrees. Please label all outerwear with your child's name.