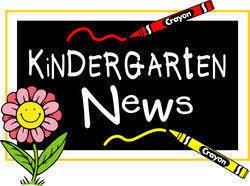 Kindergarten Newsletter - Week of October 5, 2020
Stefanie Hill
Monday, October 05, 2020
Kindergarten Newsletter
Week of October 5, 2020
Upcoming Dates:
Friday, October 9 – No School - Institute Day
Monday, October 12 – No School - Columbus Day
October 14 and 15 – Fire Drill
Thursday, October 15 – Picture Retakes
What is Blending?
Blending is the process of saying the individual sounds in a word and then running or stretching them together to make the word. For instance, blending or sounding out /s – a – t/ and making sat.
We are blending letter sounds together in our phonics lessons to make words. This is an important reading technique that improves with practice. We will work on blending sounds together all year.
Phonics: Focus letters this week Cc/Kk Ee
Tricky Word of the Week: like
September's Word Families: ___in
Reminder:
Fall weather can change quickly. Please send a jacket every day. Practice with the zippers and buttons at home. Kindergarten students are working towards independence.