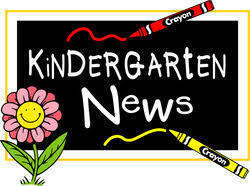 Kindergarten Newsletter - Week of November 9, 2020
Stefanie Hill
Monday, November 09, 2020
Kindergarten Newsletter
Week of November 9, 2020
Upcoming Dates:
Wednesday, November 11 – Veteran's Day (Wear your Red, White and Blue). Special Thanks to all who have served.
November 25-27 – No School – Happy Thanksgiving
Phonics: Focus letters this week Gg Oo
Tricky Word of the Week: are
November's Word Families: ___og
Math:
We are continuing our work on numbers zero through ten. Please work with your child on recognizing these numbers in print, identifying and making groups of objects, writing these numbers and comparing groups of greater than, less than, and equal.
Reminders:
Welcome back!!! Please remember that your child will need a snack and water bottle every day. We are also entering winter coat, hats, and gloves weather. PLEASE put your child's name on each and every item. If we have snow, your child will also need boots and snow pants to be allowed to play in the white goodness.