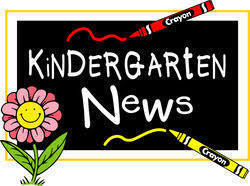 Kindergarten - Week of May 20, 2019
Stefanie Hill
Monday, May 20, 2019
Sounds we are learning: Review all 42 sounds
Tricky word of the week: how
April word family: -ate
Important notes:
The last day of school will be Monday, June 3rd.
KES Field Day will be held in the afternoon on Monday, June 3rd.
There will be hot lunch available on Field Day. There was an error in the original Field Day note.
Report cards will be distributed on Monday, June 3rd. If you child is absent on that day, their report card must be picked up from the office after June 3rd. Report cards will NOT be distributed early.
PLEASE NOTE: This week, the Genoa-Kingston Rescue Squad will be coming to our school. We will learn about how they help us.
Math: Topic 14: Describe and Compare Measurable Attributes. We will discuss length, height, capacity and weight and how they can be measured.