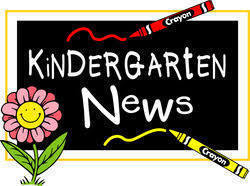 Kindergarten Newsletter - Week of 09-02-19
Stefanie Hill
Sunday, September 15, 2019
Thank you to all the families that donated extra supplies for our classroom. Your donations are very much appreciated.
We will continue to learn and practice classroom, hallway, lunchroom and recess routines and rules. Learning school routines helps students strive for independence. The Kingston School Rules song helps us learn the rules. The words are as follows:
Be respectful
Be responsible
An always be safe
These three rules keep us
happy and make Kingston a great place.
Ask your child to sing the song to you.
Math - Topic 1
Essential Understanding: Counting tells us how many are in a group, regardless of their arrangement or the order they are counted. The last number said when counting a gruop is the number. We will also practice writing numbers 0-5.
Tricky Word of the Week
the
Tricky Words
Tricky words are the most frequently used words in the English language.
Tricky words make up about 50% of any written text.
Students will be able to read more fluently if they have learned to recognize tricky words instantly and automatically.
Some tricky words can not be decoded or "sounded out".
This year we will focus mainly on tricky words that can not be sounded out and must be memorized. Practice at home will be very beneficial for your child's overall literacy development.