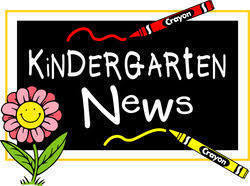 Kindergarten - Week of October 28, 2019
Stefanie Hill
Monday, October 28, 2019
Kindergarten Newsletter
Week of October 28, 2019
Sound we are learning: Rr, Mm, and Dd
Tricky Word of the Week: look
Practicing current and previous tricky/sight words is essential to mastery of them.
October Word Families: -in
Important Dates to Remember:
Thursday, October 31st – Halloween Parties (Remember only parents signed up to help will be allowed in for the party.)
Wednesday, November 6th – Parent/Teacher Conferences
Thursday, November 7th – 11:30 Dismissal, Parent/Teacher Conferences
Friday, November 8th – No School (non-attendance day)
Tuesday, November 26th – Kindergarten Thanksgiving Feast
Wednesday, November 27th, 28th, and 29th – No School- Happy Thanksgiving!!
Kindergarten Thanksgiving Feast:
Kindergarten will have its own Thanksgiving Feast on Tuesday, November 26th at 1:30. Parent helpers arrive at 1:15.
Look for the sign-up sheet at parent/teacher conferences for food items and volunteers.