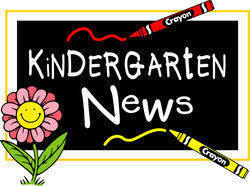 Kindergarten - Week of February 3, 2020
Stefanie Hill
Monday, February 03, 2020
Kindergarten Newsletter
Week of February 3, 2020
Sound we are learning: Ww ng
Kindergarten Blending Homework starts this week. Your child's teacher will be sending home a Blending Word List each week. Please be sure to follow the directions and return the practiced word list each week with a parent signature.
Tricky Word of the Week: come some
Practicing current and previous tricky/sight words is essential to mastery of them.
October Word Families: -est
Important Dates to Remember:
· February 10 – Jump Rope for Heart
· February 13 – 11:30 Dismissal Parent/Teacher Conferences
· February 14 – Valentine's Day Parties
· February 14 – 11:30 Dismissal Parent/Teacher Conferences
Math Topic 8:
We will be composing and decomposing numbers in math.
Composing: start with the parts and join into the whole 4 + 1 = 5.
Decomposing: start with the whole and break it into parts 5 = 4 + 1
Valentine's Day Activities
Enjoy some special time with your child decorating his/her paper heart, which is attached with directions. Also, keep working on those Valentines with your child. It is a great writing activity.